BIG NEWS: The Wooderboys have partnered with POINTSBET! Sign up today and use Promo Code WOODERBOYS to sign up now and get free money to bet with. A $50 deposit gets you $100 in credits, $150 gets you $300, and $250 gets you $500 in credits! You'd be stupid to say no to free money. Don't be stupid.
Currently this promotion is only available in New Jersey for new customers that haven't made an account and deposited yet. But just like The Wooderboys, POINTSBET ain't going nowhere! We're growing, they're growing, but if you're heading down the shore for Labor Day download this app once you cross over the bridge and make a deposit. It's. Free. Money.
Best bet record for the playoffs: 1-7
Today is a great day and a sad day. There is no better day then the day of the Super Bowl. Yet, at the same time it is the last football game of the season and with no football for the next 7 months after tonight, it makes me sad. So let's try to end the year on the on the winners side. Here's my prediction for Super Bowl LV
1) Kansas City Chiefs(-3) vs Tampa Bay Buccaneers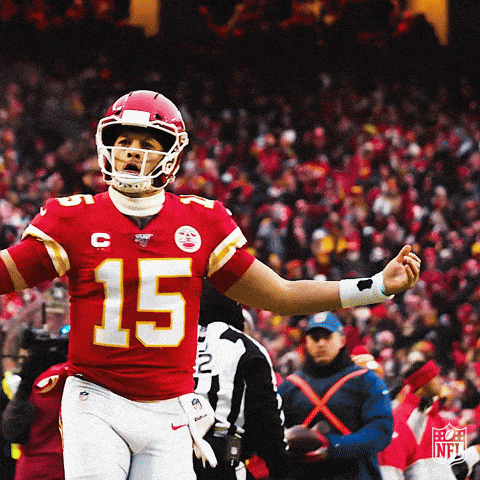 This is going to be a good one. Tom Brady vs Patrick Mahomes. This is what it would have felt like to have a Michael Jordan Lebrons James NBA Finals matchup. The Buccaneers are looking for their 2nd super bowl in theirs teams history and the Chiefs are looking for their 3rd. The QB's are a whole different story. Mahomes is looking for his 2nd superbowl in his 4th year in the league. He would join Tom Brady as the last QB to do that over the last 25 years. For Tom Brady this is just another day in the office for the goat. This will be Brady's 10th Super Bowl appearance where he has a 6-3 record. Also the game will be in Tampa Bay which is the first time in NFL history that the host city's team is also in the big game. So with two legacies going head to head on Sunday and boths teams virtually equal in superstar talent, here are some interesting betting nuggets to know.
While Brady is an underdog in today's games that's usually isn't the case over his career. Yet, when Brady has been one he is a covering machine sporting a 41-17-1 record ATS and is also 36-23 straight up in those games. In the Super Bowl he has not been a covering machine. Brady is actually 4-5 ATS in his 9 appearance in the big game.
Just because the Chiefs are favored that doesn't necessarily mean that the odds are in their favor. While favorites are 35-19 straight up in Super Bowl history they are just spotting a record of 27-25-1 ATS. Of course my job here is to correctly guess the spread and not the winner so how exactly to I see this game going.
If you remember these two teams met all the way back in week 12 and even though the game ended 27-24 the Chiefs blitzed the Bucs right out the gate otscring them 17-0 in the 1st quarter and the game was really never in jeopardy. Since then the Buccaneers have not lost a game and in seemed like this where their season took a turn for the better and they figured out how to play as a team.
Mahomes was able to throw all over the Bucs secondary that game has he went 37-49 for 462 yards and 3TD. It looked like Tyreek Hill was going to set an NFL record for most receiving yards in a game as he ended with 13 rec for 269yds and 3tds. If they can't contain Hill again its going to be real hard for the Bucs to win.
The key for the Bucs once again is can they force turnovers. They have done a absurd job at doing so, so far this postseason. They have forced at least 2 turnovers in each game this postseason which has set up the offense and Brady and Co. have capitalized greatly. If you remember in his first super bowl Mahomes was not perfect and did have 2 int that game.
The Chiefs are 4-1 ATS in their last five playoff games as a favorite and 9-4-1 ATS in their last 14 games after an ATS win. Kansas City is 2-8 ATS in their last 10 games overall and 2-7 ATS in their last nine as a favorite. Meanwhile, Tampa Bay is 4-0 ATS in their last four games as an underdog and 5-2 ATS versus a team with a winning record. The Bucs are 4-1 ATS in their last five overall and 4-1 ATS in their last five after a straight-up win. 
I have bet against Tom Brady in every game this postseason and naturally for some reason I will do it again. The Chiefs haven't lost a legit game in 3 years when Brady actually defeated them in the AFC Championship game. Mahomes and Reid get their 2nd ring has its going to be a close and maybe an all timer. Chiefs 27 Buccaneers 24