122 days ago on August 23rd, 2020 The 76ers were embarrassed on the a national stage as they were the first team eliminated from the playoffs after a 110-106 game 4 loss to the rival Boston Celtics. Fast forward to today and the Sixers open up their 2020-2021 season at home vs the Washington Wizards. A lot has changed since then. Let's get you all caught up real quick with WoJ Bombs:
Free Agency and Draft
The Sixers also added Dwight Howard and brought back Justin Anderson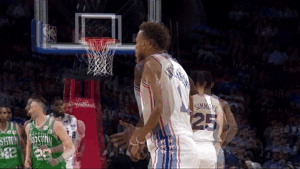 Preview of the Season
While the Sixers on paper are easily a top 10 team in the NBA they might not even be the 3rd best team in their division. The Sixers are in a weird spot. They are less talented than the Bucks and Nets, but they have a better coach. On the other hand they are more talented than the Raptors, Heat, and Celtics but, Doc Rivers is the worst coach out of those coaches on those team. So where does that leave us in the hierarchy of the NBA? Or even in the Eastern Conference? Here are some potential questions that need answers to help us find out.
Can the Sixers Fix their Road Woes?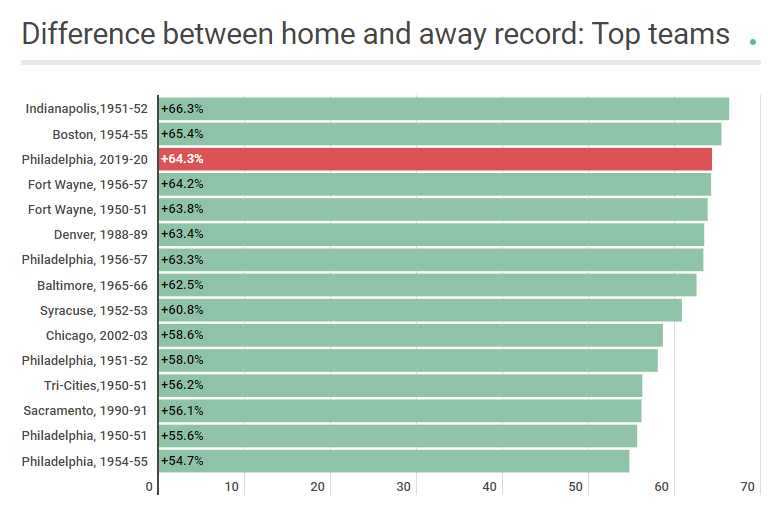 Last year the 76ers had a total record of 43-30. Their home record was 31-4. Which is not just great, it's spectacular. Usually when a team has this good of a home record they are on pace for a 60 win season. Well they would have if they didn't finish with an abysmal 12-16 road record.
While, the famous NBA term is shooting doesn't travel on the road that can't be the excuse this year as you have added two elite shooters in Danny Green (36.7 3pt%) and Seth Curry (45.2 3pt%). Seth Curry is 2nd all time in 3pt FG% at 44.29% behind Steve Kerr at 45.4%. I bring this up because there aren't going to be fans cheering (or booing) the Sixers in the Wells Fargo Center for the time being and I truly believe that not many teams feed off the energy of the fans as much as the 76ers. With an empty Wells Fargo Center your home court advantage isn't nearly as potent as last year, thus it is going to be extremely difficult to replicate the 31-4 mark. So the Sixers must fix their road woes this year if not they could be in for a disappointing season. Adding players like Green, and Curry should help but I won't be shocked when we go 0-4 in Orlando and Atlanta.
Do we Finally have a Closer?
While the Sixers have made a lot of good moves that compliment their 2 star pieces in Ben Simmons and Joel Embiid extremely well. They still are missing someone who can get a clutch bucket in the half court in crunch time. The graphic above is from 3 postseason ago, but the same issues still exist for Ben Simmons. There's no denying he's a great player, but his game still lacks creativity in the half court in the clutch. In Brett Brown's system at the end of games he would play the dunker spot or run dribble hand off with JJ Reddick for a fade away 3. For Embiid the issue is his basketball IQ is simply not good enough at the end of games. I can't remember a time where he has made the right decision in the post in a late game situation. He gets rattled easy and tends to keep the ball low which leads to it being stripped. Also this stat doesn't help (from 2018).
I know it is from 2018, but can any Sixers fan think of one he has hit since then?
As for Tobias Harris, I don't think I need any explanation. Now, is Tyrese Maxey the answer? The 1st round pick of the Sixers has the craftiness in his game to get by a defender at any point and while he is undersized for the 2 guard spot (6'3) he has a decent handle and elevation in his jumper. To rely on a rookie especially one that probably won't get late 4th quarter minutes for some time is ludicrous. The Nets, Bucks, Raptors, Pacers, Heat and even the Hawks all have way better closers then the 76ers and if they don't fix that, it could become their achilles heel.
Will Ben Simmons and Joel Embiid take the Leap?
The Sixers have done everything to protect their two star players. Three roster changes, two head coaches, and now four GM's. I have been on record saying this might be the last year we see these two on the floor together and a key element to that will be the if they both can take the next steps. This can be broken down into two parts.
First, on the court:
While, everyone can see how talented these two players are you can't really say that either one of them have elevated their game every year like a superstar should. Let's start with Simmons. Simmons' defensive game has clearly taken the next step and should put him the conversation for DPOY (I mean just look at this graphic below).
On the offensive side of the ball he has taken little to zero strides in his game. He still lacks any sort of jumpshot and in the clutch as I touched on before he has been basically useless in the 4 years as a 76er. A player of his elite skill set can't and shouldn't be handicapped and it is frustrating to watch him when he refuses to take any sort of mid range jumper. I can speak for all Sixers fan when I say that everyone is cool with one three pointer a game even if it is a miss. He also needs to be in attack mode 24/7 when he is one the court and when him and Embiid are on the floor together he sometimes isn't.
For Embiid, it's always can he stay in shape or can he finally read a double team in the post. Trust me, they are never going away. He needs to have an internal clock in his head for when to get rid of it and kick it out, and when to make a QUICK move in the post. Humongous emphasis on quick. I'll give Embiid a pass for last year because he had nobody to kick the ball out to and the spacing was horrible with Horford and Simmons in the game. This year he will have shooters surrounding him at all times and he has to make the right decisions on a consistent basis. If he can fix his late game issues this will open up so many opportunities for this Sixers team. Regarding staying in shape, well that is just on him.
Is it Worth Trading for James Harden?
No.
Prediction
The difference between the NBA and other major sports is 9/10 times the teams that are suppose to compete for a championship do. The Sixers can be one of those teams if every question above is answered. I don't think it will be. I am not sure how the Sixers could possibly be better at home with no fans. Even with no fans in most opposing stadiums, how much better is your road record going to be?
I do believe that Simmons and Embiid flourish more in a Doc Rivers lead system and the roster that they have built around them is deeper and as talented as they have ever had. Simmons will enter his name in the DPOY conversation and I actually think he will win it and Embiid should assert himself in the MVP conversation as well in my mind.
I had the Sixers going 50-22 good for 2nd in the Eastern Conference behind the Milwaukee Bucks. After watching the Nets absolutely look unstoppable last night I have changed our record to 47-25 still good for 3rd in the East, but now behind the Nets as well. This is a very important season for the Sixers franchise. A lot of questions are going to have to be answered for them to make it to the Conference Finals. The East is as deep as it has been in the last 20 years. You have 5 teams that could make the NBA Finals. Are the Sixers one of them? Time to find out.