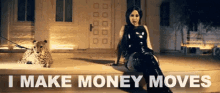 We're sharks. Not like Great White's, but like those cool sharks that don't murder innocent people. You know, like Whale Sharks, the one's that have a mouth like your old ass grandfather when he takes his dentures out. That doesn't mean we bring you picks that we don't believe in. Instead of analysis, this is all based on gut instinct and homerism. Just the way gambling was intended.
After everyday standings will be held on which one of us is making or losing you the most money.
Standings as of 9/1:
Gary: 17-14-1
Kyle: 17-19
PJ: 24-20
Nonetheless here are the picks for today September 2nd, 2020
Kyle: Milwaukee Bucks -5 (-112)
There's no chance the Heat are going to put two games together like that. Jimmy's not getting 40 tonight and Goran Dragic ain't putting in 27 of his own. No lie this feels like a 30 point statement win from the Bucks. Remember what happened after the Bucks lost to the Magic in Game 1? The Bucks came back and won by 15.
PJ: Rockets/Thunder Under 216
I guaranteed you at least a 3-1 record yesterday and of course it. I never take over/unders but the under is 6-0 in that six games 7 played in the NBA. Gotta take this.