It's not a stretch to say that this has been the hardest year to watch the 76ers since "The Process" actually began 7 years ago. Yet, here we are back where we started. A team with a lot of good pieces that aren't championship contenders. We will be always just good enough to make the playoffs which result in not having good draft picks and once again we are in absolute cap hell. The first one to go is always the coach and that's exactly what happened on Monday around 5 pm as former head coach Brett Brown was relieved of his duties as Head Coach of the Sixers. Heres his statement below:
"I have a deep appreciation for the 102 players I have coached". Trust me that was put in there on purpose. In this statement, he also thanked Sam Hinkie and Elton Brand but left out the Colangleos (Also on purpose). Trust me I am no Brett Brown fan, but to put 100% blame on him is asinine to me. The man went through 4-5 complete roster overhauls in his seven years and who could blame is 221-344 record when he had G league players his first 4 seasons. Yet, here we are it is time to hand over the keys to a new sheriff in town. Which was once the most desirable job in town now has a lot of questions marks on it. Ever since we as Sixers have claimed "The Process" ended when Sam Hinkie was kicked out by Adam Silver (even I would argue it was after Markelle Fultz was drafted) "The Solution" was not correct and not it is time for "The Resurgence". Step 1 Finding a new head coach.
1. Kenny Atkinson
While Atkinson's record percentage was wise slightly worse than Brett Brown (.398) Atkinson posting a 118-190 (.383). The consensus around the league was that Atkinson was one of the best young coaches in the NBA after leading a very young Brooklyn Nets team to 42-40 finish. Which was good for 6th in the Eastern Conference eventually losing to the 76ers in 5 games in the first round. He had such a good rep and system in place that he was able to get Kyrie Irving and Kevin Durant to join him last offseason. Even without KD stepping foot on the court the entire year and Kyrie having another injury-riddled season Atkinson was given the blame and let go after a 28-34 record. Still, a young head coach with a lot of potential Atkinson's very fast-paced and guard-heavy system could be a great fit for Ben Simmons as a bunch of point guards have seen their numbers flourish under his system. Caris Levert, D'Angelo Russel, and Spencer Dinwiddie have developed into great offensive weapons under his system. Yet we have Embiid and having a post up center doesn't fit Atkinson style of play so to me he would be a great coach to have just not in Philadelphia.
2. Adrian Griffin
Griffin was interviewed for the job back in 2013 and sources say he made an impression before obviously choosing Brett Brown. Griffin is the Head Defensive Coach of the Toronto Raptors who leads the NBA in opponents ppg with 106.5, 2nd in defensive rating, and 2nd in steals. Being a lead assistant with one of the top coaches in the NBA in Nick Nurse, Griffin has championship experience and has led in my opinion a very team first defensive system, something the 76ers seemed to never be consistent at. Going with a defensive coach might be the smartest move for the 76ers. With great offensive talents like Ben Simmons and Joel Embiid offense should never be an issue. The 76ers have a bunch of great defenders including Simmons and Embiid, adding Richardson Thybulle, and Horford there is no reason this team shouldn't have been top 3 in the NBA of the defensive side of the ball. The Lakers did a very similar thing hiring a steady defensive head coach in Frank Vogel and look where they are now. I'm not sure the 76ers will look into Griffin for this job, to me, he is one of the leading candidates in assistants about to become head coaches.
3. Jay Wright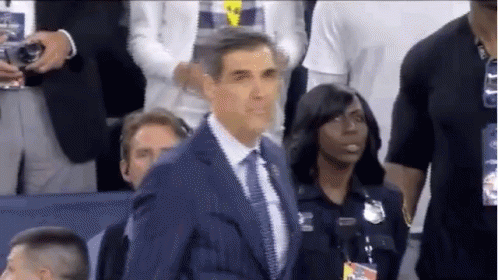 The job is his. That's if Jay Wright wants it. I don't think its a secret among Sixers faithful that if they had to choose someone to save the Sixers it is Jay Wright. This isn't the first time a more prestigious job has offered Jay Wright a chance to cement his legacy in a different location. Texas has tried before they settled with Shaka Smart and UCLA offered him 7.5 million a year to go there and he turned it down. When you think Villanova the first thing you think of is Jay Wright. Having an excellent record at 472-182 after being at Villanova now for 20 years he plenty of accolades to show. 7 times he has won the Big East Title and 6 times he has been named coach of the year in the Big East. He was also named Naismith Coach of the Year in 2006 and 2016. Let's not forget the big one of them all winning 2 National Championships in 2016, 2018. So why would he leave? Asking Wright to leave is like asking Coach K or Calipari to leave their schools. They are simply the man on campus. To me, Wright is the best college coach in the country, and his system at Nova is very similar to the NBA. Versatility and 3pt shooting. There have been rumors flying around that if Jay Wright ever left Nova it would be for the 76ers as he grew up a die-hard Sixers fan and went to Council Rock North High School which is just outside of Philly. Let us hope the rumors are true because he is the guy for the job.